¥3,300/1NIGHT

MAX CAPACITY 6 GUESTS

Mix Dormitory room with 3 bunk beds. Maximum number of guests is 6. Each bed has its own individual electrical socket and reading light. There are three big windows in the room with a beautiful garden view.

Reading light
WiFi
Electric sockets
Private curtain
Antiseptic solution
Air cleaner

¥3,600/1NIGHT

MAX CAPACITY 4 GUESTS

Female dormitory room with 2 bunk beds. Maximum number of guests is 4. There are electrical plugs and a reading light for each bed. The room has two windows with access to the balcony, with an excellent view of Hiwasa's river and mountains. 

Reading light
WiFi
Electric sockets
Private curtain
Antiseptic solution
Air cleaner
¥10,000/1NIGHT
MAX CAPACITY 3 GUESTS
Private suite room with 3 beds. Maximum number of guests is 3. There are electrical plugs and a reading light for each bed. The room has a window leading to the balcony, with an excellent view of Hiwasa's river and mountains. 
Reading light
WiFi
Electric sockets
Private curtain
Antiseptic solution
Air cleaner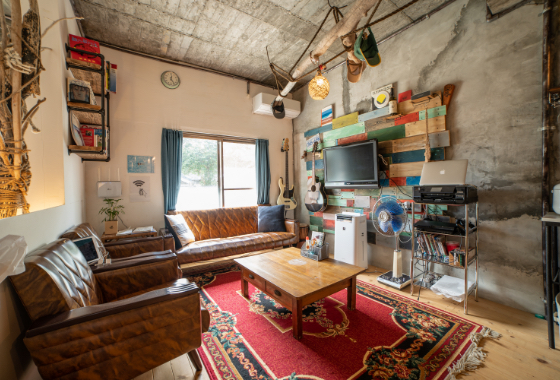 All guests have access to the living room, dining room and kitchen. There is a rice cooker, coffee maker, common fridge, and utensils for cooking. There is also a TV and HDMI cable in the living room. You may connect your own laptop to watch a movie or listen to your favorite music. Feel free to make yourself comfortable, after all our home is your home!
24hour
Kitchen utensils
Microwave
Rice cooker
WiFi
Electric sockets
Antiseptic solution
Air cleaner
There are one washrooms and two shower rooms. Shampoo and body soap is available.
Bath towels and face towels are not included in the room fee, but can be rented for a charge.
24hour
Shower
Hairdryer
Clothes hanger
Shampoo
Body Soap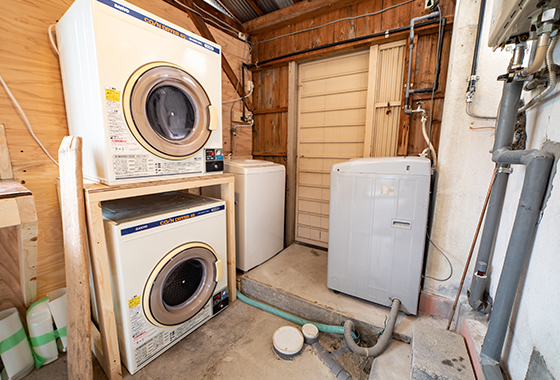 There are two washing machines and two dryers available to use for a fee.
Washing machine
Dryer
Detergent
Softener
Clothes hanger
Bath towel for rental

¥100/1

Toothbrush

¥100/1

Washing machine
(Detergent&Softener)

¥100/1

Drying machine

¥100/30min.

Car parking

¥500/1DAY

Safekeeping luggage
(before/after check-in/check-out)

¥200/1DAY