from ¥3,300/per person per nightincl. TAX

TOTAL CAPACITY: 6 people

Mixed dormitory room with 3 bunk beds.The three large windows provide a view in to the garden and wooden deck outside. There is plenty of space between each set of bunk beds for you to leave your luggage.

Reading light
WiFi
Electric sockets
Private curtain
Sanitizer
Air cleaner

from ¥3,500/per person per nightincl. TAX

TOTAL CAPACITY: 4 people

Female dormitory room with 2 bunk beds. Each bed has its own individual electrical socket, reading light and curtains. There is also plenty of space for you to store your luggage. The room has two large windows with access to the balcony, and a panoramic view of Hiwasa's river and mountains.

Reading light
WiFi
Electric sockets
Private curtain
Sanitizer
Air cleaner

from ¥12,000 for 3 people per night
from ¥9,000 for 2 people per night
from ¥6,000 for 1 person per night incl. TAX

TOTAL CAPACITY: 3 people

Private room with 3 twin beds. Each bed has its own individual electrical socket and reading light. There is also a comfortable sofa and coffee table for work or to enjoy a quick night cap. The room has a window leading to the balcony, with a panoramic view of Hiwasa's river and mountains. Accommodation rates will depend on total no. of guests.

Reading light
WiFi
Electric sockets
Sanitizer
Air cleaner

from ¥5,000 for 1 person per night
from ¥8,000 for 2 people per night incl. TAX

TOTAL CAPACITY: 2 people

Double bedroom located on the 1st Floor (ground floor), available for 1 or 2 guests. Power sockets and reading lamp on either side of the bed. The desk is perfect for those who need to work remotely, even after the hostel's Quiet Time (from 22:00). Easy access to shared bathrooms, shower rooms, kitchen and living room.

Reading light
WiFi
Electric sockets
Computer desk
Air conditioner
Hanger

from ¥14,000 for 4 people per night
from ¥12,000 for 3 people per night
from ¥10,000 for 2 people per night incl. TAX

TOTAL CAPACITY: 4 people

The Female Dormitory is also available for private use for up to 4 people. Accommodation rates will depend on total no. of guests.

Reading light
WiFi
Electric sockets
Private curtain
Sanitizer
Air cleaner

from ¥18,000 for 6 people per night
from ¥16,000 for 5 people per night
from ¥14,000 for 4 people per night
from ¥12,000 for 3 people per night incl. TAX

TOTAL CAPACITY: 6 people

The Mixed Dormitory is also available for private use for up to 6 people. Accommodation rates will depend on total no. of guests.

Reading light
WiFi
Electric sockets
Private curtain
Sanitizer
Air cleaner
Weekdays (Sunday to Friday) ¥40,000 per night for up to 10 people (+¥3,000 per person if more than 10) Saturdays & national holidays ¥48,000 for 10 people per night (+¥3,000 per person if more than 10) incl. TAX
TOTAL CAPACITY: 15 people
Private use of the entire hostel. Can accommodate maximum 15 guests, with full use of the bedrooms and shared spaces. For more information, please make an inquiry using the inquiry form.
※you cannot make a reservation via the website.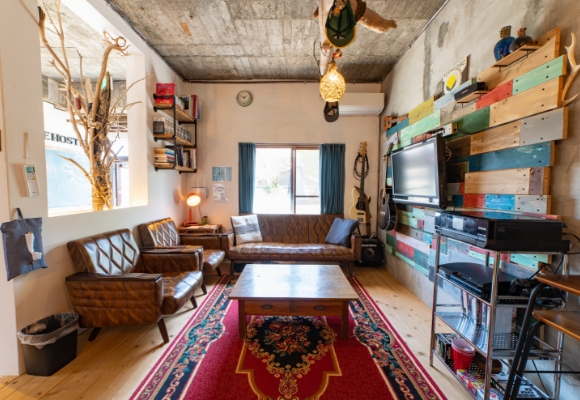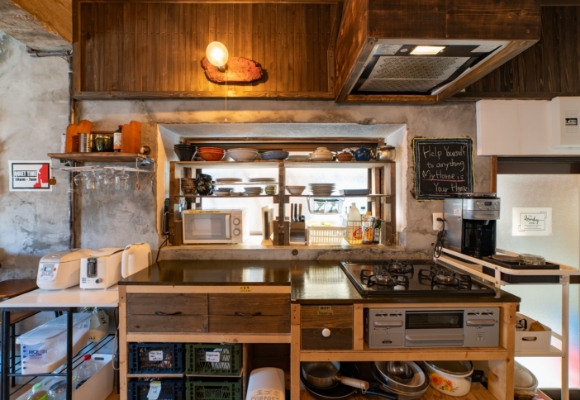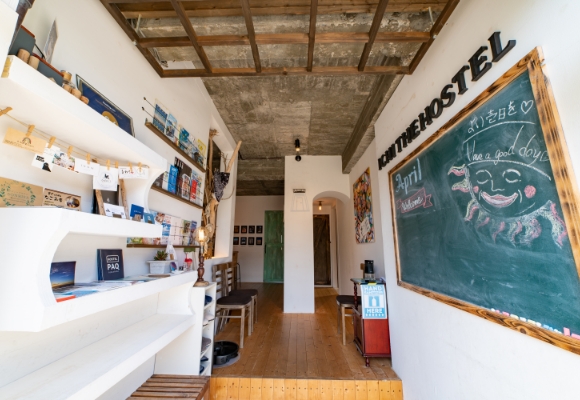 The shared living room, dining room and kitchen are available for all our guests to use freely. It's a great place to meet the other guests! You can cook together, watch a movie, play a board game or even make some music. The kitchen is fully equipped with rice cooker, coffee maker, toaster, microwave, refrigerator and cooker. With necessary condiments, cooking tools and crockery, it is ready to use! We also offer other free services such as locally produced rice, store bought pasta, coffee and tea. The shared space can be used at any time, however please be aware of noise and other guests during "Quiet Time" in the hostel (between 10:00PM and 7:00AM)
24hour
Kitchen utensils
Microwave
Rice cooker
WiFi
Electric sockets
Sanitizer
Air cleaner
There is one shared bathroom sink, two shower rooms and two toilets available for our guests to use at all times. Amenities include: shampoo, body soap, tooth paste, hair dryer. Bath towels and face towels are not included in the room fee, but can be rented for an additional charge.
24hour
Shower
Hairdryer
Clothes hanger
Shampoo
Body Soap

There is one coin laundry and two coin dryers for our guests to use in the Laundry Room. Free washing detergent is provided. Please see our Paid Services section for prices.
Washing machine
Dryer
Detergent
Softener
Clothes hanger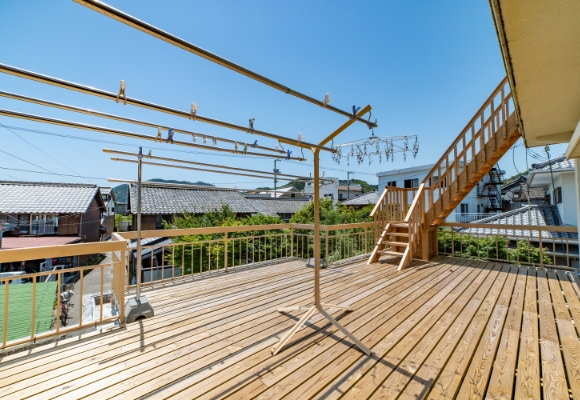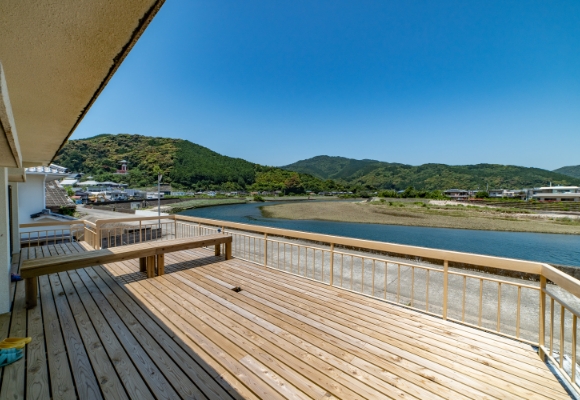 Our Wooden Deck facility was completed in January 2022. You can access the Wooden Deck from the 1st and 2nd floor bedrooms, and up on to the roof of the hostel. Facing the ocean, river and mountains, soak up the rays of the sun and take in the beautiful natural surroundings of Hiwasa.
Bath towel for rental

¥100/1

Toothbrush

¥100/1

Washing machine
(Detergent&Softener)

¥200/1

Drying machine

¥100/30min.

Car parking

¥300/1DAY

Luggage shipping


ASK

Cassette stove
(Pot set or Takoyaki set)

¥300

Rental BBQ set
(BBQ stove, charcoal, tongs, burner)

¥500/1person